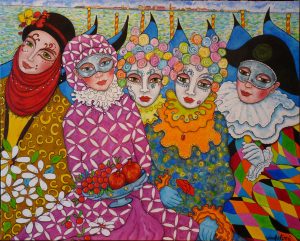 "Art is like a prayer, a hand outstretched in the darkness, seizing a touch of grace and transforming itself into a hand that gives."
Franz Kafka.
2019  Médaille d'Argent "Arts Sciences Lettres" 2019
2017  Prix des Ecoles à "Propos d'Artistes" Morainvilliers en Yvelines
2015  Diplôme d'honneur au "Festival franco coréen des Arts Plastics" à Séoul, Galerie Iang, Namséoul University Art Center, Corée du Sud
2015  Diplôme coréen de travail apprécié au KOMAS (Korea Mokpo  Artfair Special Exhibition) à Mokpo, Corée du Sud
Personal permanent exhibition of paintings and sculptures in my studio,Yvelines France.
Membre de l'Académie France Monde Culture
www.francemondeculture.com – Revue Artistique Trimestrielle "Mozaïque",   distribuée par la Bibliothèque Nationale de France à Paris.
Membre de Arts Sciences et Lettres
https://www.arts-sciences-lettres.fr/
Aliocha Wolkoff Art Factory
{Artsper} Gallery

Kinor Gallery Paris