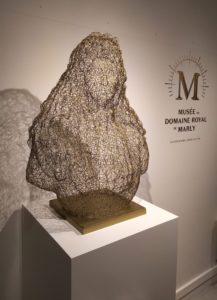 Sculpture du buste de "Louis XIVème" par Corinne Halimi di Domessini – Commande du musée du domaine royal de Marly Louveciennes  Marly-Le-Roi – installée dans le hall d'accueil des visiteurs –
CORINNE HALIMI DI DOMESSINI 
Créatrice Artistique en Arts Plastiques – Professionnelle 

COPYRIGHT
 2022 Exposition de sculptures en Exclusivité et en Permanence à la galerie d'art Carré d'artistes * – 3/5 rue des Louviers – 78100 Saint Germain-En-Laye –
2020  Exposition Permanente au Château de Monte-Cristo à Port-Marly de : 1 – "Alexandre Dumas" Sculpture buste et 2- "Danseuse bleue" Sculpture (fil de fer tressé-peinture) / 3- "Cher Alexandre Dumas"Portrait  Peinture à l'huile sur toile de lin. 
2020  Le 14 Juillet 2020, remise d'un "Cheval d'Excellence" de la ville de Marly-Le-Roi, en hommage à ma contribution au rayonnement artistique et touristique de la Ville à travers mes sculptures, en particulier celle du roi Louis XIVème acquisition du musée du domaine Royal de Marly.
2020 january, acquirement by the "Musée du domaine Royal de Marly / Louveciennes Marly-Le-Roi, of ma sculpture "Louis XIVème" exhibed in the reception hall of the musée.
2019  "Prix de la Galerie" au Salon d'Hiver de "Arts Sciences Lettres" à la Galerie Thuillier, 13 rue de Thorigny, Paris 3ème
2019  Médaille d'Argent "Arts Sciences Lettres" 2019
2017  Prix des Ecoles à "Propos d'Artistes" Morainvilliers en Yvelines
2016 Portrait de Corinne Halimi Di Domessini, au

Journal Télévisé

Grand Angle de la chaîne Yvelines Première, le mercredi 29 juin 2016 – www.yvelines 1.com –http://www.yvelines1.com/grand-angle/grand-angle-mercredi-29-juin-2016/
2015  Diplôme d'honneur au "Festival franco coréen des Arts Plastics" à Séoul, Galerie Iang, Namséoul University Art Center, Corée du Sud
2015  Diplôme coréen de travail apprécié au KOMAS (Korea Mokpo  Artfair Special Exhibition) à Mokpo, Corée du Sud
Personal permanent exhibition of paintings and sculptures in my studio,Yvelines France.
Membre de l'Académie France Monde Culture
www.francemondeculture.com – Revue Artistique Trimestrielle "Mozaïque",   distribuée par la Bibliothèque Nationale de France à Paris.
Membre de Arts Sciences et Lettres
https://www.arts-sciences-lettres.fr/
Membre de l'Académie Européenne des Arts France
Membre de la Société des Auteurs et Artistes Francophones